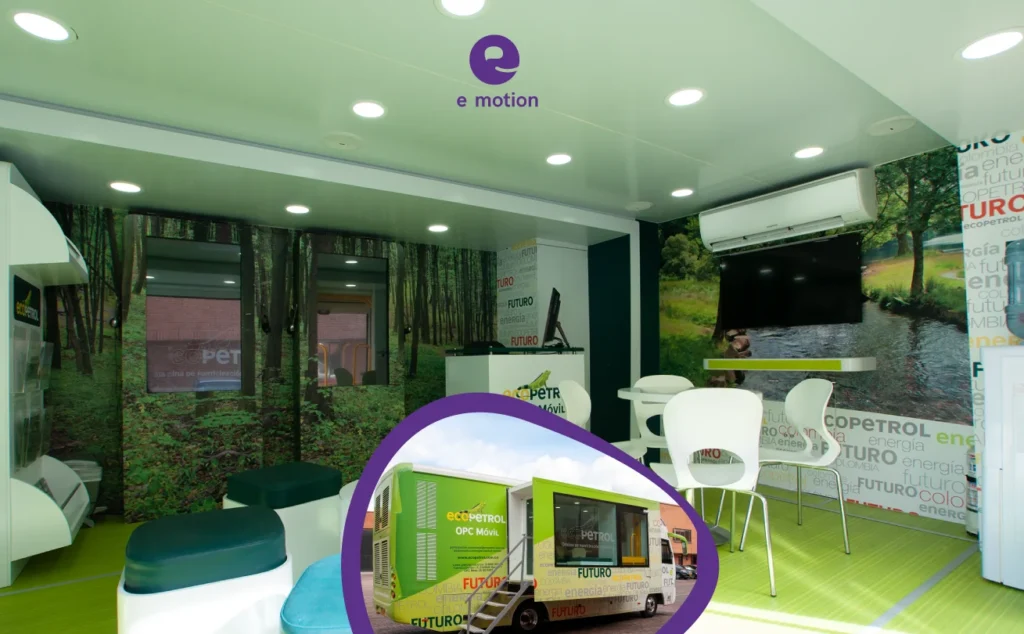 Add a header to begin generating the table of contents
One of the opportunities offered by mobile units is the power to materialize any idea into an itinerant experience, according to the strategic objectives of each company or institution. Such is the case of the itinerant offices, by becoming an agile and effective solution to serve the general public, thanks to the support of special mobile units, fully equipped and connected to serve consumers anywhere in the national territory.
The Consumer Route of the Superintendence of Industry and Commerce (SIC) is precisely an example of an itinerant institutional campaign that, with the support of 4 mobile units, has been seeking to serve consumers for more than 5 years, on issues related to the Consumer Law, among other services, in an agile, direct and effective manner.
This success story is an example of the versatility of special mobile units and everything that can be adapted inside them. Additionally, in terms of results, companies and institutions manage to obtain tangible results, as in this case in which the SIC was able to visit 768 municipalities in the country, serving more than 189,000 citizens. SIC managed to visit 768 municipalities in the country, providing attention to more than 189,000 citizens in the last four years (2019 - 2022), according to a report presented by the entity.
The SIC has even been able to serve citizens in rural areas and areas of difficult access, with the support of 13 4 x 4 vans, scattered throughout all regions of the country, in order to advise citizens on the protection of their rights as consumers, in addition to receiving guidance and personalized accompaniment in procedures such as complaints, lawsuits and other related issues.
Other examples of mobile offices 
In e-motion we have accompanied the development of other types of itinerant strategies as we will see below:
The Colsubsidio Service Center was an itinerant strategy created to facilitate its members' access to loans, services and benefits directly at their workplaces, especially in rural and industrial areas. This was made possible with the support of a Mobile Office connected to the service platform, with systems and protocols that allowed users to open new products, make reservations, applications and payments in general.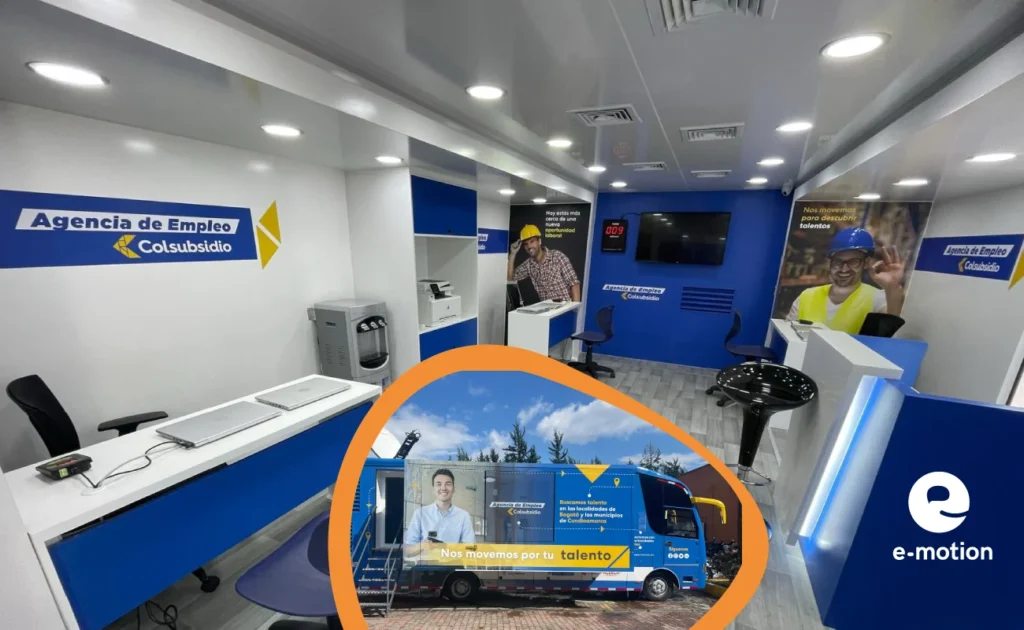 Another example has to do with the Procuraduría Móvil de la Procuraduría General de la Nación, an itinerant strategy developed by e-motion, with support from the Inter-American Development Bank (IDB), to bring the services of the institution to the most remote municipalities of the country; by means of a mobile office with access to the PGN services platform, the data collection system, internet connection and the support of a team of lawyers specialized in attention and orientation to citizens.
Thanks to these mobile units, more than 250 people were served in 93 municipalities belonging to 13 departments between 2019 and 2020.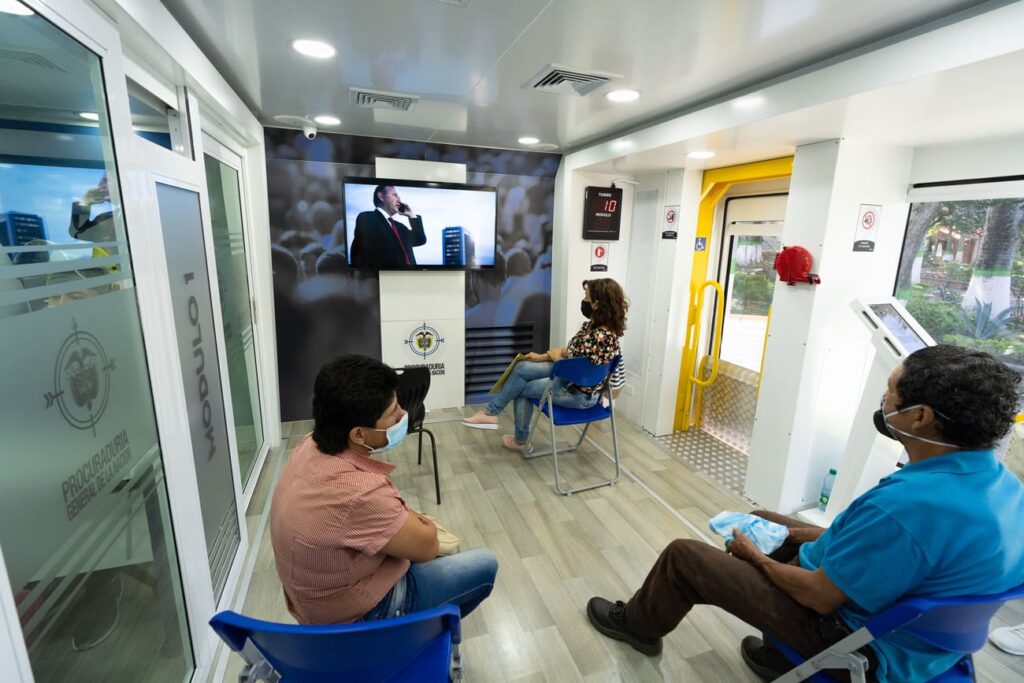 Finally, in the financial sector, we designed and built safe, modern and reliable mobile offices for the Davivienda bank, in alliance with MTI, to bring its financial services to the entire national territory by means of 5 mobile offices called "Davimóviles", designed and equipped with two customer service stations, access to the bank's product platform and a fully functional ATM. Davimóvilesdesigned and equipped with two customer service desks, access to the Bank's product platform and a fully functional ATM.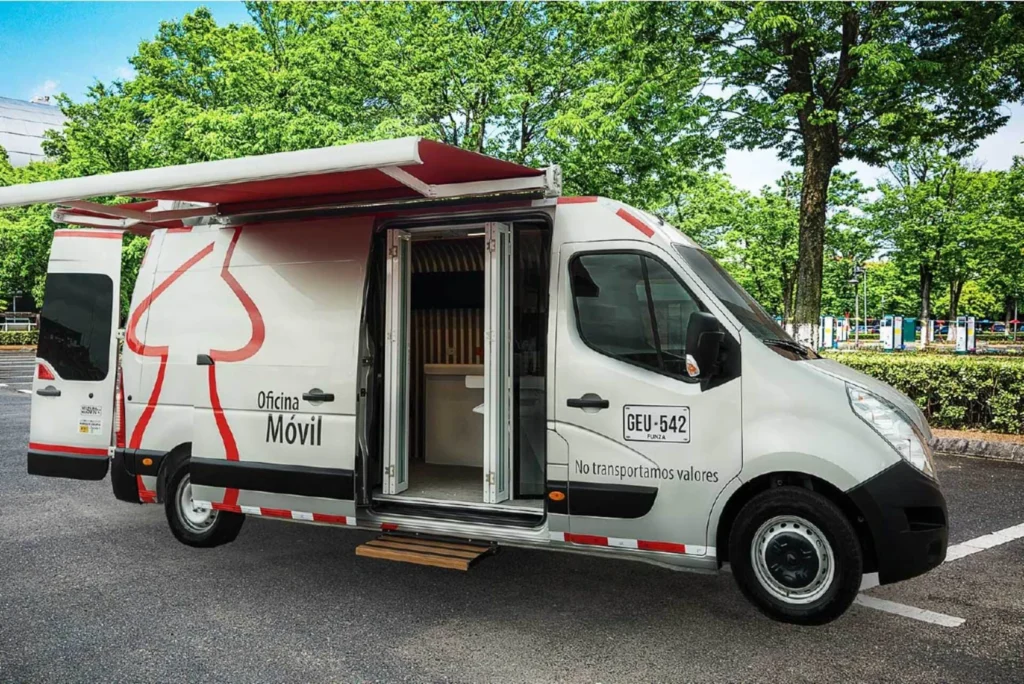 With these examples, we were able to show a highly effective way to assist citizens in any part of the national territory with the support of special mobile units, but above all, that with these vehicles it is possible to materialize any idea that contributes to the benefit of companies, people and institutions.
At e-motion we are ready to accompany you in the creation of your next mobile strategy and take your services to every corner of the country. Learn more here. 
Subscribe to the marketing on the move blog