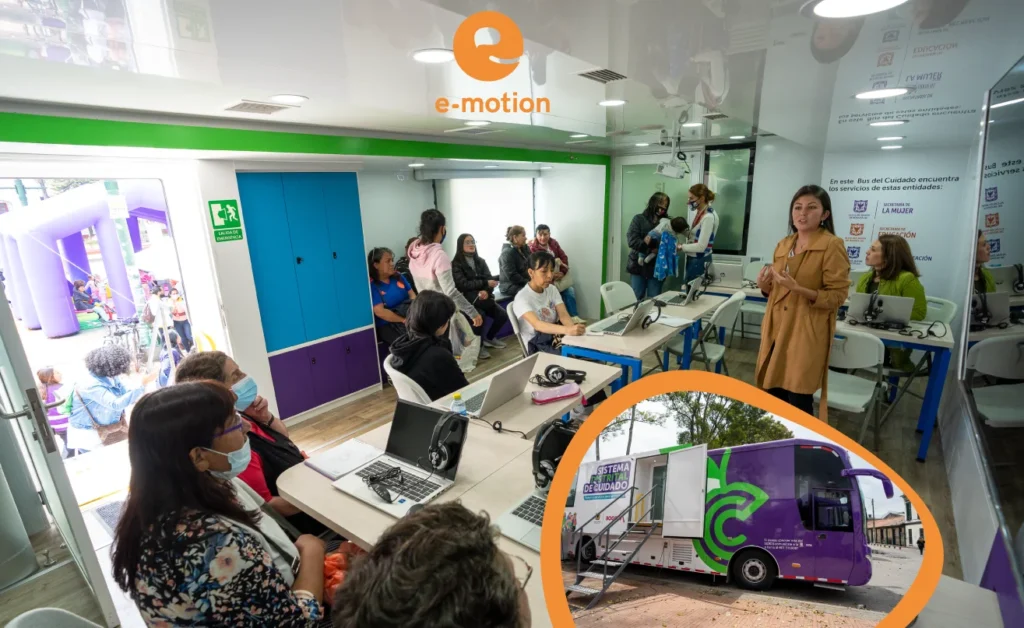 Add a header to begin generating the table of contents
At e-motion we celebrate good news. This time, with the new launch of the itinerant component of the District Care System of Bogota, which has the support of two mobile units to continue bringing education, training and care services to hundreds of caregivers throughout the capital district, in support of the Apples and Buses of Care, implemented in different locations of Bogota.
This program represents an important model of social innovation in Latin America and other countries around the world; becoming an example to follow to close gender gaps, serve vulnerable populations in rural, urban and hard-to-reach areas, responding to their needs and those of their families, taking into account that these people have dedicated themselves exclusively to the unpaid care of others.
Such has been the impact of this initiative that for three days: October 5, 6 and 7, Bogota became the epicenter of the "Care in Latin America" initiative, a space designed for the exchange of experiences with the participation of public officials and experts from 9 countries in the region. First International Meeting 'Care in Latin America'.A space designed for the exchange of experiences with the participation of public officials and experts from 9 countries in the region, to learn more about this model that can be replicated anywhere in the world.
The guests had the opportunity to tour the Apples and Buses of Care to live this experience and from there, share their reflections, observations and conclusions to continue strengthening and improving the System of Care.
5⃣🟢"Today the #BusesDelCuidado roll again through remote areas of the city. We are very excited to deliver this service to caregivers and their families, and to show the work of @Bogota to participants of the International Meeting #ElCuidadoEnAméricaLátina," @drodriguezfr pic.twitter.com/qrP7jCFtum

- Women's Secretariat (@secredistmujer) October 6, 2022
With the Care Buses it is possible to provide services free of charge with a very important component: saving time for caregivers, factors that almost always make it difficult for these people to travel to exclusive places to dedicate quality time to their wellbeing and rest.
Therefore, on this occasion, the District provides a care bus to serve the urban population in different locations of the city; and the second mobile unit, to reach the rural population, located in the localities of Sumapaz and Usme.
As an important fact, e-motion had the opportunity to accompany the assembly and adaptation of the mobile units in previous phases of the itinerant component and due to the success of the strategy is that today we celebrate, once again, the launching of the Buses of Care that we are sure will continue to benefit thousands of people throughout the city.
We invite you to learn more about itinerant projects with a social sense in Click Here
Subscribe to the marketing on the move blog